Canada Food Import Export Inc. (CFIE) is dedicated to build the Internet based E-trading platform for the export of Pure & Natural Canadian healthy food to the emerging markets.
1. June 15, 2015 - CFIE is honored to attend Canada-China Agricultural Trade Mission held in Chongqing, as an official party of Canadian business delegations.
The Deputy Minister of Canadian Agriculture and Agri-Food, Andrea Lyon, along with 67 delegates from government and industrial sectors, are in China's southwest city of Chongqing seeking agricultural cooperation.
This year marks 45 years of diplomatic relations between China and Canada. During a meeting at the end of last year, Canadian Prime Minister Stephen Harper and Chinese Premier Li Keqiang agreed to deepen relations and trade cooperation. China is Canada's second-largest market for its agricultural products, seafood and beverages. Their trade in 2014 reached 5.3 billion Canadian dollars or about 26 billion yuan.

2. June 16, 2015 – CCTV, China's biggest television network, interviewed Mr. Benjamin Liang, CFIE's president, during the trade mission. Benjamin is quoted in the news report addressing the recent development of Canada-China Agri-food trade and how CFIE has been working to supply pure & natural healthy Canadian food directly to Chinese consumers with lower price and higher quality.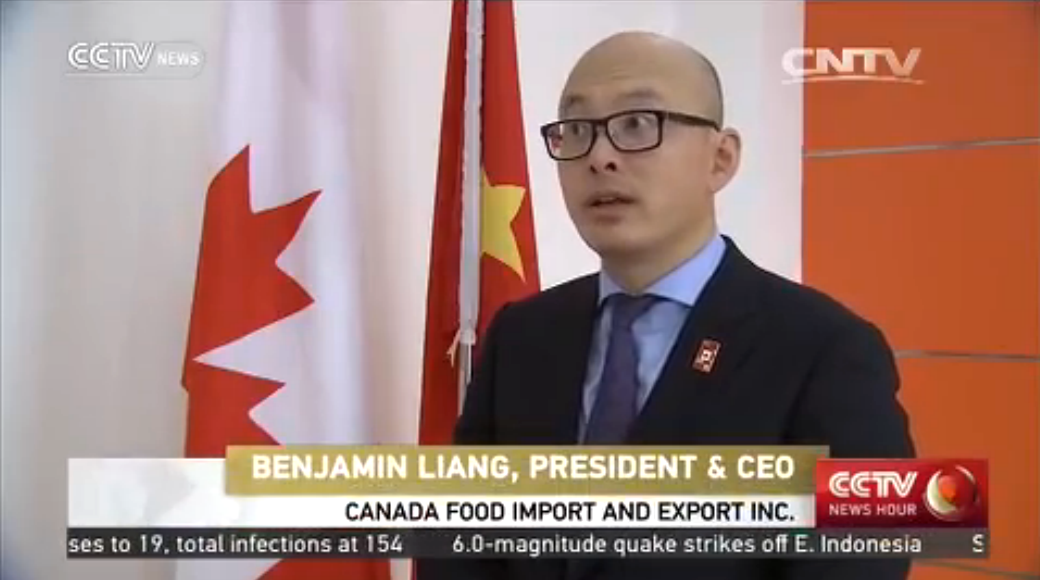 Detailed TV interview can be found here.
3.CFIE signs agreement with JD in June, 2015, and opens its online B2C store on JD Global, which allows Chinese customers to purchase healthy food directly from Canada.
4. CFIE is the official delegate at
2015 Ontario Trade Mission
this April 2015.


The mission is led by the Honourable Jeff Leal, Minister of Agriculture, Food and Rural Affairs, and the Honourable Michael Chan, Minister of Citizenship, Immigration and International Trade. The mission will build on the success of Ontario's agri-food exporters in China, introduce a new group of companies to this important market and grow the market for agri-food products in China.
For the Details please see the website:
Ontario Announces Spring Trade Mission to China
5. CFIE is glad to announce its partnership with Chongqing Golden Mouse, one of the largest ginseng and honey importer and distributor in China, in April 2015.
6. CFIE is part of the
2014 Canadian APEC
Business delegation with Prime Minister Stephen Harper to visit China in November 2014.